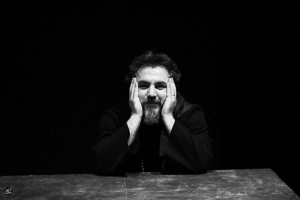 Arash Dadgar
Designer & Director
Quantum Theatre Group
Shahram Ahmadzadeh
Playwright
(a free adaptation of William Shakespeare`s eternal
"Hamlet" )
Quantum Theatre Group
Mohammadreza Aliakbari
Guildenstern
Iranshahr Theater & Piccolo Teatro
Quantum Theatre Group
Ammar Ashoori
Rosencrantz
Quantum Theatre Group
Hesam Manzour
Claudius
Quantum Theatre Group
Amin Tabatabai
Hamlet
Quantum Theatre Group
Mehran Emambakhsh
The Gravedigger
Quantum Theatre Group
Arash Dadgar
Polonius
Gdansk Shekaspear Festivall
Quantum Theatre Group
Khosrow Shahraz
Polonius
Iranshahr Theater & Piccolo Teatro
Quantum Theatre Group
Shabnam Farshadjoo
Gertrude
Quantum Theatre Group
Behrooz kazemi
Ghost of Hamlet`s father
Quantum Theatre Group
Alireza Ara
Guildenstern
Quantum Theatre Group
Vahid Rad
Laertes
Quantum Theatre Group
Amir rajabi
Laertes
Piccolo Teatro & Gdansk Shekaspear Festivall & city theatre of tehran
Quantum Theatre Group
Mona Farjad
Ophelia
Quantum Theatre Group
Sanaz najafi
Ophelia
Iranshahr Theater & Piccolo Teatro & Gdansk Shekaspear Festivall
Quantum Theatre Group
Pantea Panahiha
Polonius
Quantum Theatre Group
Mehrab Rostami , Rasoul Makvandi, Namira Hafizi,Afshin Safari
Design Crew :
Stage Designer: Arash Dadgar
Costume Designer: Elham sha`bani
Make up Designer: Sara Eskandari
Graphic (Poster and Brochure) Designer:Amir Rajabi, Narges safari
Composer: Ashkan faramarzi
Direction Crew :
First Assistant Director and Coordinator: Mehrab Rostami ( 2014 ) , Reza Ghaziani ( 2017 )
Second Assistant Director and Exective Manager: marzieh Barzi
Production Manager: Ahmad Rashidi
Script Supervisor: Faezeh Daemi
Stage Manager: Ali Ziaee
Photographer: Reza Ghaziani , Siyamak Zomorodi
Video Documentor: Hamed Moghaddasi
Publicity and Media Affairs: Zahra Shayanfar
Translator and Website Manager : Saaied Ghodousi Nejad
To My Son,
Who faithfully gave up his right of being near his father,
So that Hamlet could be on stage.
For me, Shakespeare is like a scripture. I always can enter Alice's wonderland by referring to it. Shakespeare is a comprehensive set of universal notions, which has allowed him to outline a world in which human beings are quite contradictory. That's amazing, unknown, and dramatic to me. A potential quality behind the human issues which can be the essence of a modern play with a modern approach. Shakespeare is my contemporary writer in Iran!
In my experiences, I've never wanted to perform Shakespeare's tragedies in European culture and tradition; which is silly and will be a shabby copy of its ultimate purpose. A performance of a Shakespeare's play is challenging the observer around what he knows and what he doesn't; from issues of human relations to new findings on the observer's status quo
about his surrounding phenomena.
"Hamlet" which is the latest product of Quantum Theater Group, is the result of a 4-year writing process, and has changed several times during 5 months of rehearsal.
I chose Hamlet to answer numerous unsolved questions I had in mind since my academic educations: Is Hamlet insane? Is Hamlet really in love with Ophelia? Why Polonius and Laertes don't want Ophelia to be with Hamlet? Have her feelings for Claudius made Gertrude betray Hamlet the father? Is the Ghost of Hamlet's father real to Hamlet, or it's just Hamlet's illusion? Has Claudius killed Hamlet the father in crave for the power or to get to Gertrude? , And many other questions. What I found was just like collision of electrons. Electrons collide with each other and result in a sought or unsought reaction. This means change. Assuming the change, every rigid and solid thing will break and change into smoke. If the troupe of touring players didn't come to Elsinore, There wouldn't be any play. If Polonius wasn't spying hidden in Gertrude's bedchamber, there wouldn't be any murder. If the ghost didn't collide with Hamlet,
the story of the murder wouldn't be recounted; and maybe if Claudius didn't marry Gertrude Hamlet wouldn't have any problem with his uncle.
In this play, everything is in the state of uncertainty to the last moment. Our outline of Hamlet is as follows: Some people who stand in each other's path of life, and their path changes.
Hamlet (Arash Dadgar),Tehran, City Theater,Main Hall, 2017
Hamlet (Arash Dadgar).Poland,Gdansk,Shekaspear Festivall,2016
Hamlet (Arash Dadgar),Italy-Milan, Piccolo Teatro, 2014
Hamlet (Arash Dadgar),Tehran, Iranshahr Theater, 2014