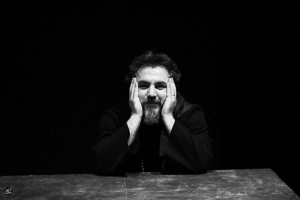 Arash Dadgar
Designer & Director
Quantum Theatre Group
Shahram Ahmadzadeh
Playwright
(Adapted from the play "The Man Outside" by Wolfgang Borchert )
Quantum Theatre Group
:(Actors (in alphabetical order
Saiedeh Ajorli ………………………………………. Budit
Mohammadreza Aliakbari ……………………….. Soldier,Heinrich,Bayer
Ammar Ashoori …………………………………..….. Badger
Arash Dadgar ………………………………..…..…… Death
Mehran Emambakhsh ………………………..……. Colonel,Elbe
Shiva Makinian ………………………………………. Agnes,Woman
Elham sha`bani ………………………….………….. Kramer
Khosrow Shahraz …………………..………………… Priest,Beckman`s father
Amin Tabatabai ………………………………..……… Beckman
Mehrab Rostami……………………………………..… The door
:Design Crew 
Stage Designer: Arash Dadgar
Costume Designer: Elham sha`bani
Scene Construction: Arash ValiNejad
Glasses Designer: Narges Safari
Glasses Construction: Farid Ayat
Light Designer: Arash Dadgar
Graphic (Poster and Brochure) Designer: Narges Safari
:Direction Crew 
First Assistant Director & Planner : Mehrab Rostami
Second Assistant Director: Ammar Ashoori
Production Manager: Nooreddin Heydari Maher
Script Supervisor: Narges Safari
Stage Manager: Ehsan Naji
Photographer: Mohammad Reza Sahebi
Assistant Stage Manager: Saeed Ghoddusi Nejad , Rasoul Makvandi
Executive Manager: Ahmad Rashidi
:Outlines 
returned to his hometown, "Hamburg", after three years of hard labor in Siberia. But despite his expectation, he realizes that no one is waiting for him. The guard prevents him from entering the city, his wife has forgotten him, the church knows him as a liar, and also his parents are dead. Looking for peace of mind and to get rid of the war responsibility, he finds no way but just death! Meanwhile the Death isn't keen on killing who is moaning for death. The Death encourages him to enjoy the life, so Beckman finds himself beside a woman in order to taste the calmness just for a moment. But even this new role doesn't help him anymore. So he finds Elbe River as the last solution, in which thousand people commit suicide every day!
:About the performance 
The return of the warrior persents neither a warrior nor the war. It demonstrates the violation. The violation in preventing entering the town, the violation fo a woman in denial of her husband, the violation of a womanin seizing the house, and the violation of death in enjoying of taking people's lives in a joyful moment!
And as a matterof course, the violation of the closeddoors of the city before the stunned warrior's eyes, who doesn't like to be a table!
Duration: 55 mins
Tehran,Hafez Hall, 2012